Pay-As-You-Go Solar Home Systems Distribution- Lukulu and Mitete Districts

Keepers Zambia Foundation in August 2017 partnered Vitalite Zambia Limited in increasing access to clean, electricity and providing entrepreneurship opportunities for 5 Solar  Champions in Lukulu and Mitete districts. As at December 2017 the program has increased access to clean and affordable electricity for over 120 households through a Pay-As-You-Go payment plans ranging from as low as K2.50 per day. The program has also recorded consistent monthly commissions revenues  in excess of K200 or $20 per Solar Champions and over K50 or $5 average household incomes from cell-phone charging. Vitalite Zambia is a recipient of the Beyond the Grid Fund for Zambia funded under SIDA and Power Africa with a mandate of effectively distributing home systems and renewable energy products across Zambia from 2016 to date.

Launch of 1st Private Sector Managed Solar Mini-Grid- 12 April 2017

Keepers Zambia Foundation in partnership with Muhanya Solar Limited coordinated the launch of Zambia's first ever privately owned 30kw solar mini grid. The solar power plant has a 30kw generation capacity and has so far provided clean and affordable electricity to 60 households, a school, a church and 2 small business entities in Sinda village of Eastern Province. As Technical Partner to the United States African Development- Power Africa Off grid Challenge, KZF had direct oversight of the project design, implementation, environmental, regulatory and risk management of all projects on the portfolio.

The innovations have cheered a lot of beneficiaries who have as a result of access to power, engaged in various income generating activities such as cell-phone charging, selling of refrigerated food stuffs and ice blocks as well as salon and barbershops.  Some of intermediate benefits of access to electricity has been longer trading hours for local businesses, increased pupils study time after dark, increased security, household savings arising from reduced expenditure on kerosene, firewood, battery charging; and improved health due to low incidence of respiratory and eye related illnesses from usage of dirty energy sources like firewood. After phase 1 of implementation for all three projects, KZF will undertake a situational analysis to ascertain the impact of a reduction in carbon emissions via number of reported cases for respiratory illnesses before and after project.

https://www.youtube.com/watch?v=ka7zaJYfe0s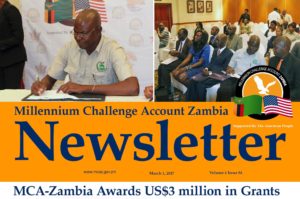 INNOVATION GRANT AND SIGNING CEREMONY-24th February 2017
Keepers Zambia Foundation was this afternoon awarded a grant to implement the CNC- Solid Waste Management Project in Chipata and Ngómbe compounds of Lusaka district. The transformation of the solid waste management service into a business by attaching value to waste through recycling and engagement of already established networks and partnerships at community and institutional level that will be regulated and monitored by the establishment of a sustainable framework  and capacity enhancement is what constitutes the innovation of the project. The project will work with existing Community Based Enterprises (CBE's) and Women Self Help Groups within Ng'ombe and Chipata compounds to build the necessary skills needed to operate as sustainable business entities. 
http://www.mcaz.gov.zm/?p=4046
Medical Stores Limited To Distribute Kit Yamoyo
Medical Stores Managing Director Dr. Bonface Fundafunda says the Kit Yamoyo diarrhoea kit was now available for distribution to all corners of the country. Kit Yamoyo contains oral rehydration salt (ORS) and zinc creatively packaged in a flimsy plastic container which also serves as a measuring and storage device. 

Dr. Fundafunda said this during the signing of a memorandum of understanding between Medical Stores and Keepers Zambia in Lusaka yesterday. Under the MoU, MSL will distribute the GRZ branded diarrhoea kits throughout Zambia using the public sector medical supply chain. KZF, ColaLife, Pharmanova and other partners embarked on promoting the new diarrhoea kit in 2012 initially on trial. Kit Yamoyo is now on the GRZ essential drugs list.